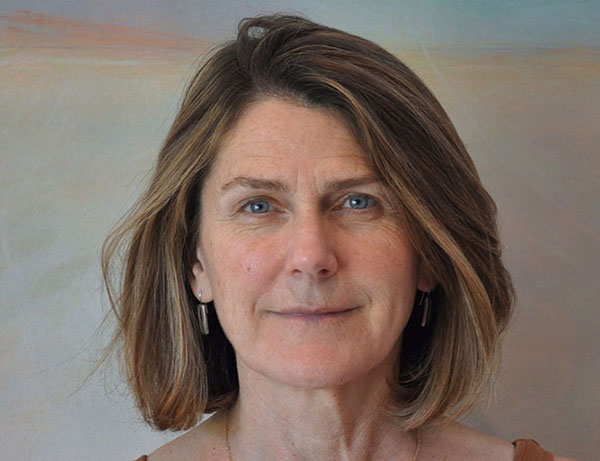 Artist Statement Jean
Painting delights my senses. The physical movement of working large canvases, the sensation of observing colors emerge, along with the forms and structure that continue to evolve on each piece are fascinating. Creating art is an exercise in believing, having faith that it will come together - in it's way and time. When the work is flowing, time stops; there is no thought - only movement.
Painting involves risk and abandon - giving up the hold on a favorite element of a piece, being willing to explore, push, change, perhaps destroy, and always coming back to the idea that it's just another layer. It will change. I am always striving to be unafraid to change what is in anticipation of what may emerge.
Why Size Matters To My Art
Many artists in the 50's and 60's began to scale-up the size of their canvases as the nature of the abstracts they were painting were growing more minimalist, or at least less adorned. A good example is Mark Rothko, whose color-fields were able to communicate more emotional impact as they grew in size. This idea was an important reason for me, several years ago, to begin to develop ideas in larger painting formats. I found the simplicity inherent in my geometric shapes took on more importance to the overall work when presented in larger sizes. These shapes, in larger canvases, facilitated my concept of painting-within-a-painting as well as serving, when done right, to provide structure for a balanced entity. For me, the increased size provides greater freedom to create in a format that also provides the potential to better communicate emotional impact.
Training
:
Minnetonka Center for the Arts, Minnetonka, MN (abstract painting)
Anderson Ranch Arts Center, Snowmass, CO (Immersive Abstract Painting Program)
Recent Show Activity
:
Patisserie 46 Gallery
, Minneapolis, MN 2010
Solo show featuring large scale abstracts.
Minnetonka Center for the Arts
Minnetonka, MN 2010-2014
Annual member shows showcasing abstract paintings.
Installation of Hebrides Calm in main gallery.
Back-to-Back Abstracts Show,
C.W.Smith Collection, Edina, MN 2012
This show featured nine works of this artist along with works of Wade Smith. A feature of the show was to accompany each painting with a Chinese or Indian artifact that seemed to resonate with the piece.
Art 4 Shelter,
Burnett Gallery at Le Meridien Chambers Hotel, Minneapolis, MN 2012
Group show to benefit Simpson Housing Services exhibits and sells original artworks on paper by emerging and established artists.
Chiaroscuro Show
, C.W. Smith Collection, Edina, MN 2013
Chiaroscuro was a very successful show built on the format developed in the previous year for Back-to-Back.
MN State Fair Fine Arts Juried Show,
St Paul, MN 2013
Out of 1885 submitted pieces of art, the artist's painting
CounterPoint Abstraction
received a
Third Place Award
.
Au Revoir Abstracts Show,
C.W. Smith Collection, Edina, MN 2014
Au Revoir was held in anticipation of moving from Minnesota to the Central Coast of California.
Brushstrokes 2015, San Luis Obispo Museum of Art,
San Luis Obispo, CA,
In this juried show (open to artists from the West Coast) this artist's painting
Sangre de Cristo
was chosen
Best In Show
.
Other
Work of this artist are placed in numerous businesses and galleries from New York to California.
CURRENTLY UPDATING THIS SECTION!