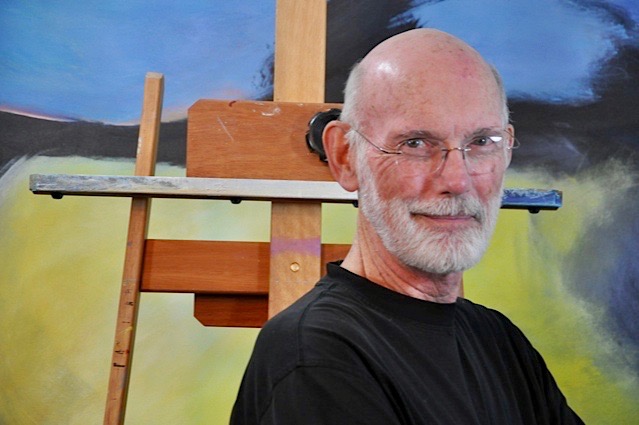 Artist Statement
My art, is on a continuous track to evolve. This concept, since college art classes (57 years ago), has moved from representative to mostly abstract, from plentiful to spare and from florid to muted. This development, over the years, has continued to explore the natural world at its core with a persistent desire to extract pattern from natural phenomena. However, the focus now is on stripping down those forms to the simplest of thematic shapes. I have held to an additional bit of continuity (a need of mine) to pass on to the viewer a feeling of mystery, beauty and a few unanswered questions. This is a tough challenge given a proclivity toward minimalism and an impulse to abstraction.
These thoughts and ideas have lately manifested themselves in numerous two and three-part paintings which feature horizon lines separating the sections. The horizons generally extend from one side of the painting to the other and, in my view, provide not only stability but a useful device allowing the viewer an assumption of extension-to-infinity. Within the painting, both tension and compositional harmony are created by melding the extremely hard line of the horizon with more amorphous material which generally is (or not) considered a sea or clouds. My preferred method of painting is a combination of scumbling and dry-brushing with many layers of paint blended on the canvas to achieve sfumato or areas of tonal gradation.
Finally, it is my hope for each painting that the viewer will understand the true representation on the canvas is of an emotional experience... a feeling not a place... and also that the same viewer may sense the essence of a spiritual narrative, albeit of modest impact.
Training
Muskingum University
(Introductions to Painting, Sculpting, Print Making and Art History)
University of Minnesota
(Print Making / Lithography)
Taj Watercolor Forum
, Mumbai, India (three-year watercolor painting series)
Minnetonka Center for the Arts
, (MCA) Minnetonka, MN (four-year abstract painting focus)
Anderson Ranch Arts Center
, Immersive Abstract Painting Program, Snowmass Colorado
Influences
Helen Frakenthaler and other "Color Field" artists, but also….
Vasudeo Santu (V.S.) Gaitonde and a host of others...
Richard Diebenkorn, Mark Rothko, Jon Schueler, Clifford Still, Edward Dugmore and the 1957/58 Willem De Kooning
MCA Show Activity
2011-2015... Venues and shows for individual paintings were made available to this artist through the auspices of the Minnetonka Center for the Arts in Minnetonka, MN., including the Annual Members and Abstract Shows. This also included a permanent installation (2014) of the artist's painting "Les Colours Tendre" in the Center lobby.
Private Show Activity (Major Shows Only)
"ABSTRACT STUDIES" (SHOW)
2011, July 11-27
"Studies" was an inaugural show of paintings by Wade Smith in a new commercial location in Edina, MN for C. W. Smith Collection.
"BACK-TO-BACK ABSTRACTS" (SHOW)
2012,
June 8-29
This show featured nine works of this artist along with the same number of those by artist Jean Obermeier.
"CHIAROSCURO" (SHOW)
2013, October 3-16
Chiaroscuro was a very successful show built on the format developed in the previous year for "Back-to-Back."
"AU REVOIR ABSTRACTS" (SHOW)
2014, July 12-19
Au Revoir... a final opportunity to say goodbye to Minneapolis friends.
"BALANCE" ( One-Man Show)
2015,
through
May 1
This show featured twelve of artist's abstract paintings all created in the new California Studio.
"BRUSHSTROKES 2015" (Juried Show)
through May 17
Brushstrokes is a presentation of the San Luis Obispo Museum of Art. This artist's work "Abstract with Black Banner" was one of the fifty paintings (of 214 submitted) which were chosen to celebrate the finest, current art offerings from Washington, Oregon and California.
"BACK-TO-BACK ABSTRACTS II"
This two-person show featured a redux of a successful Minneapolis show by the same name and featured works of this artist and Jean Obermeier... Haven Properties Gallery, San Luis Obispo
"BRUSHSTROKES 2017" (Juried Show)
Similar in concept to Brushstrokes 2015 over fifty works from West Coast states were chosen. This Artist's painting "Stopping by a Wood" received a top artist award.
"CURRENTLY UPDATING THIS SECTION"